I have been looking for a purse for quite some time now (and for those of you who didn't know: 'Purse' is the British word for wallet). My old one just didn't have enough space for all those club cards stores have me sign up for, but now I do!
I looks very orange in the picture, but it's slightly more salmon colored. The wallet is in real leather and has originally been priced £46, I paid £16. That's why I love
TK Maxx
; you get designer products at affordable prices. And what beats real leather? Not much really. I'd rather pay a bit more for leather than buying something that looks as cheap as it is and won't last for long.
I bought this cardigan from
Gharani Strok
before Christmas. On their site they sell it for £175, but I bought it through TK Maxx for £35...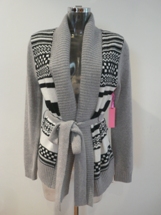 So that's a tip for everyone visiting London: Go shopping at TK Maxx. London can be expensive, so it's nice to discover that leather and cashmere can be cheaper than going to Topshop (what a relief!).
Xoxo,
Kristine
Ps. If you're wondering about the view in the background, I can tell you that I am fortunate to live on the fifth floor (sixth floor for those who don't count the ground floor). The view you see is the river Thames. Extra spectacular on a sunny day. :)